No matter your age, missing teeth should be taken seriously. Tooth loss affects your health, self-esteem, and other aspects of your life.
With custom-crafted full, partial, and implant-supported dentures, Dr. Adam Osga can restore the health and beauty of your smile.
The people of Brazoria, TX, can count on us for advanced restorative dentistry and well-fitting dentures.
What Sets Our Dentures Apart?
A Precise Fit and Natural Appearance

Most patients contact us when they have
grown frustrated with missing teeth
and think they
are ready for traditional or dental implant-supported dentures
. Others have had dentures in the past and wish to
upgrade to a higher quality prosthesis
. Here are the steps we take at our Brazoria practice to make sure you get dentures that offer a more precise fit and natural appearance.
The Cost of Dentures

The cost typically runs from $2,000 to $3,200. Additional procedures, such as tooth extraction or the placement of dental implants can increase these costs. We are happy to accept financing so individuals can pay for their prothesis over the course of several monthly payments.
Are You Missing Teeth?
You Are Not Alone
A Life-Changing Transformation
Implant-Supported Dentures Before and After Photos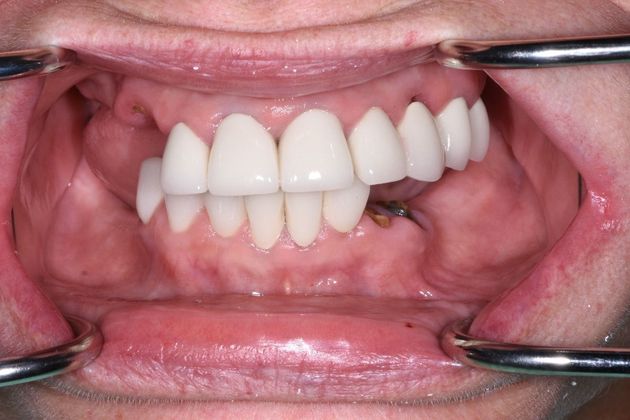 A Dentist Who Puts Patients First
Here to Restore Your Smile
People put their trust in Dr. Osga because he cares about their well being. The staff at Osga Dental are similarly committed to helping guests feel welcome and able to share their concerns and hopes. Dr. Osga has been practicing since 2008, and is fully committed to building genuine relationships with everyone in the community. In addition, Dr. Osga has taken continuing education classes in cosmetic and implant dentistry to better meet the needs of his patients.
If you live in the Brazoria area, we encourage you to ask us a question or request an appointment online. You can also reach us by phone:
Dental Care Tailored to the Patient
Committed to Custom Treatment
I'm a new patient as my previous primary is no longer practicing. The whole new patient document process is very easy and if you need assistance filling out forms, the office staff will assist you. I broke a tooth and also needed cleaning. They had an opening within the week and I was shocked at how soon they could see me. Aubrey was my hygienist and was extremely easy to work with. She took a little time to let me tell her about my dental history and quickly assessed the challenge ahead. Aubrey is gentile, informative, courteous, and kind. I really liked her a lot. After cleaning, Dr. Osga came in for assessment and to talk about strategy to address my broken tooth. The office staff presented me with a very detailed estimate of future work to address broken tooth. The whole office is pleasant first and very professional and knowledgeable regarding appointments, payments, estimates, and patient needs. Dr. Osga and his staff are first class!
View On Google
We shopped around for a good dentist in our area. Unsatisfied with the options, I looked online and saw the awesome reviews Osga Dental had. A little farther than what I wanted to travel, but then said "Let's give it a shot." After our first visit we were sold on their awesome customer service and dental knowledge. From the minute you walk in, sweet receptionist, wonderful dental hygienist, and best of all... compassionate dentist. I can say that we found our dental family, which is something that we have been looking for awhile. Well worth the 15 to 20 minute drive ❤️
View On Google
Reasons to Get Dentures
The Problems Caused by Missing Teeth
If you are missing most or all of your teeth, there are many reasons to get these custom restorations.
Problems Eating
and Speaking
Missing teeth make it difficult to eat some foods, limiting your diet to soft foods and liquids and stopping you from eating the foods you love. Speaking can also be difficult; forming certain words is challenging when teeth are missing.
Bone Loss and
Gum Recession
Missing teeth can affect surrounding structures. A person will lose jawbone density along the dental arch and have gum recession. This is due to the loss of root structure, which adversely affects the health and position of remaining teeth.
Changes in Facial Appearance
Tooth loss doesn't just impact the health and appearance of your smile. If you're missing many teeth, it can cause your lips to droop and your cheeks to appear hollow. This can cause you to appear much older than you actually are.
Good Candidates
Treating Tooth Loss
If you are missing most or all of your teeth, there are many significant reasons to consider full or partial dentures at our Brazoria practice.
You Are Missing Many or All of Your Teeth
If you have lost all of your natural teeth or have just a few teeth left, dentures are an excellent option for restoring your ability to bite, chew, and smile.
You Have Good Jawbone and Gum Structure
Dentures remain in place with the aid of suction along the dental arch or
dental implants
. Ideal candidates have
sufficient bone density
and
gum tissue in place
for support.
You Are Self-Conscious about Your Smile
If you are missing most of your teeth, it can make you ashamed to laugh, speak, and smile around others. A dentist can help with these problems.
You Know the Risks, Benefits, and Process
People interested in full or partial dentures should be aware of the risks and benefits, as well as the basics of the treatment process.
Types of Dentures
Full, Partial, and Implant-Supported
Different types of dental appliances are available at our Brazoria practice based on a patient's needs. The extent of your tooth loss will determine the most effective dental care approach.
Partial dentures are ideal for people who are missing several teeth. The appliance uses brackets or hooks on the patient's remaining natural teeth to hold the prothesis in place. Taking impressions and using advanced custom fabrication techniques prevents the partial denture from slipping or falling out of the mouth while you bite, chew, and speak.
This option is an excellent choice for people missing all of their teeth. If there are any remaining teeth, our dentist may recommend extraction so a full denture can fit along the dental arch. We use digital x-rays and accurate impressions to create the most precise fit possible so the prosthesis can secure to the jawbone and gum tissue with suction. Denture adhesives and creams can be used to add stability to the appliance. For people missing all of their teeth, a set of upper and lower protheses can be made.
Thanks to advances in dental care, a full or partial denture can be anchored in place with dental implants. These artificial tooth roots are surgically embedded into the bone and gums of the dental arch. After healing from oral surgery, the dental implants function just like natural tooth roots. The appliance is secured to the implants via abutments and will not budge when eating and speaking. The result is a mouth that's been fully restored and rehabilitated.
Patient-Centered Dental Care
We Make the People of Brazoria Smile
Friendly staff and great services. The staff always wore a smile and seemed to enjoy their jobs. The office was clean and neat. The hygienist, Aubrey, was thorough and made my overall experience excellent. I highly recommend this place.
View On Google
I may hate going to the dentist, but this entire team and Dentist make it less stressful. The are all really down to earth people and do an amazing job! I live in Lake Jackson and drive to Brazoria just to go to this dentist. Highly recommend this Dentist! A+ in my book for sure!
View On Google